A close-up look at Ben Kingsley as the supervillain is finally revealed almost at the same time when Marvel Studios debuts a new sneak-peek video that gives a first look at Guy Pearce's character.
"
Iron Man 3
" marketing campaign team shows no sign of slowing down as it gets closer to the release of its first trailer. Shortly after unleashing a snippet of the trailer, they debut a first ever official look at Sir
Ben Kingsley
as supervillain The Mandarin.
Revealed via Entertainment Weekly, the first-look still shows the "
Hugo
" actor in a close-up shot, sporting bin Laden-esque beard and arranging his hair into a neat bun a la samurai. His full costume is not completely unveiled, but he is seen donning what appears to be a dark robe with golden accent in the neckline.
Though Kingsley is not a Chinese, Marvel boss Kevin Feige says the studio wants to "blur" the background of the new version of The Mandarin. "It's less about his specific ethnicity than the symbolism of various cultures and iconography that he perverts for his own end," he tells EW.
In addition to debuting the first look at The Mandarin, Marvel releases a brand new poster and a second teaser for the upcoming "Iron Man 3" trailer. The one-sheet shows Tony Stark posing in front of his billion dollars armor wardrobe, while the fresh snippet sees some dramatic scenes instead of action-packed ones as shown in
the first teaser
. It also gives a first look at
Guy Pearce
's villainous character.
Slated for a May 3, 2013 release in the U.S., "Iron Man 3" will pit Tony Stark against an enemy whose reach knows no bounds. When Stark finds his personal world destroyed at his enemy's hands, he embarks on a harrowing quest to find those responsible. This journey, at every turn, will test his mettle.
With his back against the wall, Stark is left to survive by his own devices, relying on his ingenuity and instincts to protect those closest to him. As he fights his way back, Stark discovers the answer to the question that has secretly haunted him: does the man make the suit or does the suit make the man?
In addition to Kingsley and Pearce, the latest armored hero movie stars
Robert Downey Jr.
,
Gwyneth Paltrow
,
Don Cheadle
,
James Badge Dale
,
Rebecca Hall
,
Paul Bettany
and Ashley Hamilton.
"Iron Man 3" Poster: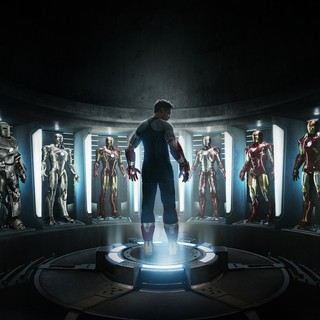 New Teaser of "Iron Man 3" First Trailer: