Featuring the characters without X-Men costumes, the pictures give the first look at Kevin Bacon's Sebastian Shaw and Nicholas Hoult's Hank McCoy before transforming into Beast.
20th Century Fox has answered people's craving for a sneak peek to "
X-Men: First Class
". The studio has given away three stills which are debuted exclusively by Los Angeles Times' Hero Complex. Unlike in the previously leaked cast photo which features the characters in X-Men costumes, this time they are all seen wearing daily outfits.
One photo features
Caleb Landry Jones
' Sean Cassidy/Banshee,
Michael Fassbender
's Erik Lensherr/Magneto,
Jennifer Lawrence
's Raven Darkholme/Mystique,
Rose Byrne
's Dr. Moira McTaggert,
Nicholas Hoult
's Hank McCoy/Beast,
James McAvoy
's Charles Xavier and
Lucas Till
's Alex Summers/Havoc together.
Kevin Bacon
's Sebastian Shaw and
January Jones
' Emma Frost are seen sitting side by side in another image, while Xavier and Lensherr are pictured in front of a chess board.
"X-Men: First Class" is currently re-shooting and director Mathew Vaughn shares this to
Hero Complex
, "We're filming at the moment, we've a lot to get done. I've never worked under such time pressure.... We've definitely got a release date and we've got to make it." Regarding a competition with other Marvel's upcoming releases, he is not lacking in confidence and even claims, "I will say the following: X-Men as a brand is bigger than Captain America, Thor and the Green Lantern, all put together."
McAvoy, meanwhile, wants to address to audience that he is not playing a new Xavier. "This isn't a reboot, so I'm not replacing anyone, in which case you might want to try to be as different as possible and stay away from what had been done before. This is a prequel, so I'm the same character, just younger," he explains. "But the challenge for me - and for Michael - is to show the same person in a different place in their life; to show someone before they're this bad guy, before they're this saint. Charles wasn't always a ... monk, this selfless, sexless monk that he becomes."
Producer Bryan Singer adds that "the biggest challenge is introducing an audience to these characters in a different time - characters the audience is familiar with but now see played by younger actors and in a story taking place in a different time." He continues, "You have to put your characters out there and introduce them to a quizzical public that sort of recognizes them. But that very thing is the exciting part of it."
"X-Men: First Class" will chart the epic beginning of the "X-Men" saga and follow Charles Xavier and Erik Lensherr when they were still close friends who worked together with other mutants to stop the greatest threat the world has ever known. It also highlights the events that lead them to become archenemies. The movie is slated for June 3, 2011 release in the U.S.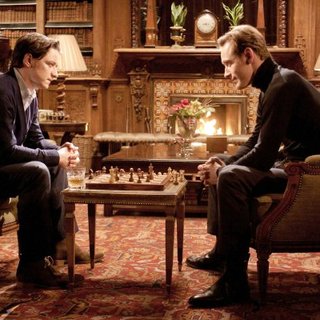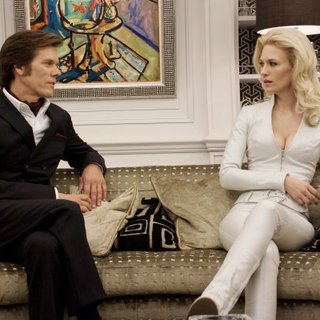 UPDATE:
In addition to the stills, "X-Men: First Class" has also gotten a teaser poster which makes its way out via
Ain't It Cool News
. It features a huge X letter without the word "Men", but still mentions "First Class" on the lower side.