In this first look to the comedy movie, the 'Social Network' actor and Aziz Ansari cover their faces with masks as they unwillingly rob a bank.
Sony Pictures has given sneak peek to its upcoming release "
30 Minutes or Less
" starring
Jesse Eisenberg
and comedian
Aziz Ansari
. The two are exposed in the first image from the film with their faces hidden under black masks.
Eisenberg portrays a small town pizza delivery guy named Nick while Ansari is Nick's ex-best friend. The twosome is unwillingly involved in a bank robbery and as the clock ticks they must deal with the police, hired assassins, flamethrowers, and their own tumultuous relationship. The Ruben Fleischer-directed comedy is set to arrive August 12 in the U.S.
Also, Sony Pictures unleashes the first picture for "
Anonymous
" and a new still of "
Bad Teacher
".
Rhys Ifans
in his vintage outfit is seen leaning in "Anonymous" image, while "Bad Teacher" photo features
Cameron Diaz
,
Justin Timberlake
and
Jason Segel
together.
"Anonymous" focuses on cloak-and-dagger political intrigue, illicit romances in the Royal Court, and the schemes of greedy nobles hungry for the power of the throne exposed in the most unlikely of places: the London stage. Set in the political snake-pit of Elizabethan England, the Roland Emmerich-directed drama is due September 30.
"Bad Teacher" revolves around a foul-mouthed, conniving seventh-grade teacher who sets her plan in motion to win over a rich, handsome substitute after she is dumped by her fiance, leading her to a competition with another colleague. The drama comedy is going to open in theaters across the nation on June 17.
"Anonymous" still: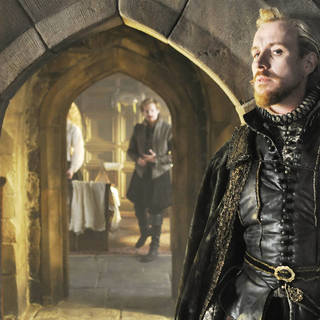 "Bad Teacher" still: