The old and new characters from the upcoming animation are featured together in the fresh image, showing afraid expressions.
After introducing new "
Toy Story 3
" characters through a lot of character posters, Walt Disney Pictures has brought together some of the old and new faces in a one-sheet. Standing in front of other characters, Woody looks afraid while the likes of Buzz, Rex, Barbie and Mr. and Mrs. Potato Head show similar expressions behind him.
Previously, the studio has unveiled all the new characters in a poster. Featuring Lots-O'-Huggin' Bear, Buttercup, Twitch, Book Worm, Big Baby and many others, the image still includes familiar faces like Woody and Buzz.
As Andy is preparing to depart for college, his toys are going to be put in the attic. However, they are accidentally thrown away and are picked up by the garbage men. The toy crew then find themselves at a local day-care center, where they must try to survive the playful but careless pre-school children. There, they begin their new adventure to find a new home.
"Toy Story 2" co-helmer Lee Unkrich serves behind the lens for "Toy Story 3" which is developed in 3-D.
Tom Hanks
,
Tim Allen
,
Joan Cusack
, Wallace Shawn, John Ratzenberger and
Jodi Benson
are among the cast for this upcoming animation set to be dropped in U.S. theaters on June 18.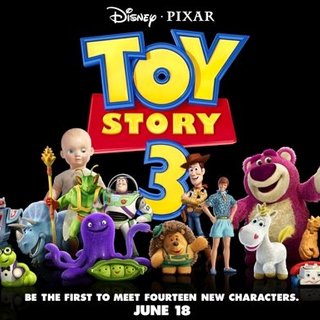 *UPDATE: Walt Disney Pictures has just unleashed a new clip from "Toy Story 3". Titled "Meet Ken", the video follows Woody and his friends as they are introduced to Ken who later takes them on a tour around the Sunnyside.