Dominating AceShowbiz's list of Top 10 Most Shocking Celebrity Stories of 2008 among others are death, nude pics scandal, leaked sex tape, and lesbian wedding.
Hollywood celebrities are hardly separated from spotlight, love, money, sex, and scandal. Just like adding ingredients and spices to cook the perfect dish, blending those components into dough will create interesting and sold out headlines, which many times people find shocking yet entertaining to read and follow. Looking back to the year 2008, AceShowbiz presents its readers the Top 10 Most Shocking Celebrity Stories that have happened throughout the past 12 months.
#10 Ellen DeGeneres and Portia de Rossi's Lesbian Wedding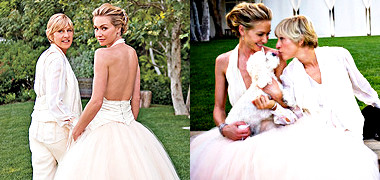 It was a "finally" when the outspoken lesbian couple walked down the aisle on August 16 after a number of wedding rumors that never came to realization. Their wedding made them the first same-sex celebrity couple who got married shortly after the California Supreme Court turned down its gay marriage ban, "What can I say? I'm the luckiest girl in the world,"
Ellen DeGeneres
told People magazine in an interview when talking about her bride
Portia de Rossi
, whom she's been dating since 2004.
#9 Verne Troyer's Sex Tape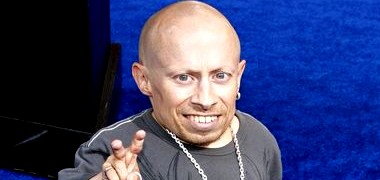 Rarely making media headlines before, "Mini-Me" actor
Verne Troyer
became talk of the town when he filed a $20 million lawsuit against his ex-girlfriend, model wannabe Ranae Shrider, for leaking their sex tape, which was taped at his apartment while they were still dating. He accused her to have betrayed him by persuading him to "agree to videotape their most intimate moments" only to later on profit from the footage, leaking it to tabloid and Internet before at last selling it to the highest bidder.
#8 David Duchovny's Sex Rehab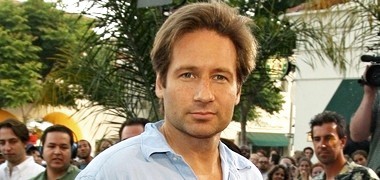 The calm image and good reputation labeled to
David Duchovny
as a movie star, husband, and also father of two children were questioned when he issued a statement through his lawyer, publicly stating he "voluntarily entered a facility for the treatment of sex addiction." But as his acting career keeps going strong, his 12-year marriage to wife
Tea Leoni
, sad to say, came to an end.
#7 Madonna and Guy Ritchie Divorced, for Real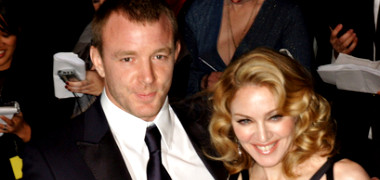 Desperately trying to put divorce reports to rest,
Madonna
and Guy Ritchie finally came clean and had their representative confirming the long persistent speculation of their separation. Custody of sons, Rocco and David, becomes the next major issue they have to deal with, whereas the financial details of their divorce settlement will remain private.
#6 Mariah Carey and Nick Cannon's Elopement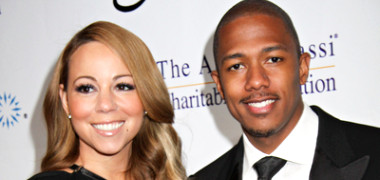 Despite their 10 years age difference
Mariah Carey
and
Nick Cannon
just couldn't resist the fact that they fell in love to one another after making music together for one of the tracks from her album "
E=MC²
". Secretly dating, they kept their lips tightly sealed when asked about the extent of their relationship. The in-love couple wasted no time to make their union official, eloping in the Bahamas on April 30, only weeks after mounting dating and engagement speculation. The wedding was claimed to be "very impulsive" and attended by only a few of their close friends.
#5 Lindsay Lohan and Samantha Ronson, Lesbian Lovers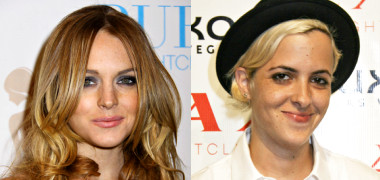 Dating a string of men, ranging from actor to socialite,
Lindsay Lohan
insisted she wasn't a lesbian despite long persistent rumors to the contrary. After repeated denials, photos of her kissing, hugging and acting affectionately with celebrity DJ
Samantha Ronson
at a party on a yacht made their round all over the web in late May, verifying the actress-singer's sexual orientation. Soon thereafter, her father publicly acknowledged that Lindsay actually is lesbian, claiming her romance with Samantha as "evident to anyone with half a brain."
#4 Travis Barker and DJ AM's Deadly Jet Crash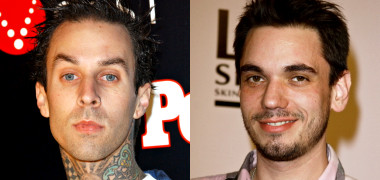 Best friends,
Travis Barker
and DJ AM, were the only passengers who were alive in the deadly jet crash, happened on September 19 in Columbia, South Carolina, that killed its six other passengers. Suffering from second-and-third degree burns, both musicians testified they escaped death by sliding down the wing on the right side of the plane.
#3 Miley Cyrus' Vanity Fair Topless Picture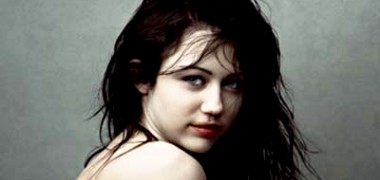 Miley Cyrus
' "good girl" image, as clearly seen in her role as Miley Stewart/Hannah Montana in TV series "
Hannah Montana
", turned into sultry teenage actress. Baring her body in the name of art, the 16-year-old girl was forced to issue a public apology after reaping countless negative reviews concerning her topless picture for the June 2008 issue of Vanity Fair magazine, which was considered as too raunchy to be done by girls at her age. Her parents and famed photographer Annie Leibovitz, who took the snap, were also blamed, being accused to exploit the Disney's star's popularity for publication and cash.
#2 The Triple Murder of Jennifer Hudson's Family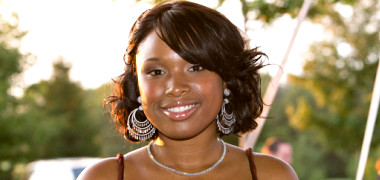 William Balfour, the estranged husband of
Jennifer Hudson
's sister Julia Hudson, was the doer. He shot the singer's mother Darnell Hudson Donerson, 57, and older brother Jason Hudson, 29, to death at their family's residence on October 24. Also killing his stepson, 7-year-old Julian King, William did the triple slaying due to jealousy over Julia's new man. Losing her loved ones in a wink, Jennifer drowned in deep grief and has been withdrawing herself from the spotlight for some times.
#1 Most Shocking Celebrity Story : Heath Ledger's Death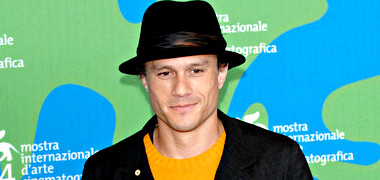 28-year-old Aussie actor
Heath Ledger
was found dead naked on bed at his Manhattan apartment on January 22 surrounded by prescription sleeping pills, leading to speculation that he committed suicide. Further speculation arose as people began to link his sudden death to rumors on the street claiming he was depressed following his separation from actress fiancee
Michelle Williams
, who mothers his young daughter Matilda Rose. Starring as the insane Joker in "
The Dark Knight
" strengthened the assumption, which at the end was put to rest by autopsy result that proved he died of an accidental "abuse of prescription medications."