The former 'Celebrity Big Brother' star strips down to just a pair of panties while covering her nipples with her hand in a new Instagram photo.
Courtney Stodden
has an enviable figure and she doesn't hesitate to show it off on social media. On Thursday, August 17, the 22-year-old reality TV star and model took to her Instagram account to treat her online followers to a photo of her baring her upper body as she strips down to just a pair of lacy underwear.
Though she posed nearly naked in the racy snap, Courtney made sure that her nipples were protected by strategically placing her hand on her busty assets. The former "
Celebrity Big Brother
" star used her other hand to take the mirror selfie with her camera phone. Letting her blonde locks loose, she could be seen showing off her pouty lips to the camera.
Courtney shared the sexy snap along with an empowering message. The estranged wife of actor Doug Hutchison told her followers to "have confidence" with their bodies as "we're all beautiful in our own way."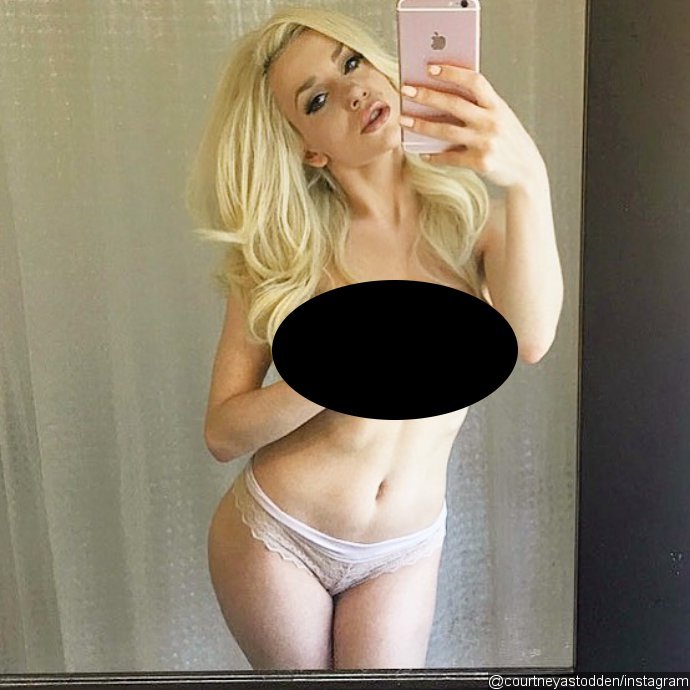 Her fans flooded her comment section with praises over her "gorgeous" body. Many even dubbed the model "Goddess" and said that she's "absolutely beautiful." Another user said, "You're gorgeous Court!" Agreeing with Courtney on what she said in the caption, the user added, "Confidence is the key to everything."
Some others, however, urged Courtney to cover up as she still looks beautiful with clothes on, too. "You're beautiful! But you can be just as beautiful with clothes on too," one said, adding, "No hate. It's a compliment." There's also someone who told the busty reality TV star that "not all of us can afford a boob job Courtney."
Courtney is no stranger to sharing body-baring photos on the social media. She previously posted a
topless photo
of herself, too, with many praising her for having "amazing" boobs. She has also shared a
racy video
that showed her stripping down to tiny lingerie and dancing seductively in front of the camera.