About This Video
---

A clip/trailer of Cantinflas
Tags
:
Cantinflas
Type
: Movie Trailer
Views
: 238
This Movie Info
---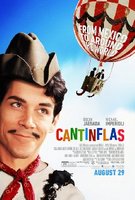 Cantinflas
Release Date :
August 29, 2014 Limited
Studio :
Pantelion Films
Director :
Sebastian del Amo
Starring :
Oscar Jaenada,
Michael Imperioli
, Ilse Salas, Barbara Mori
Cantinflas is the untold story of Mexico's greatest and most beloved comedy film star of all time. From his humble origins on the small stage to the bright lights of Hollywood, Cantinflas became famous around the world - one joke at a time. Relive the laughter that has charmed generations.