About This Video
---

A clip/trailer of Rise of the Legend
Tags
:
Rise of the Legend
Type
: Movie Trailer
Views
: 583
This Movie Info
---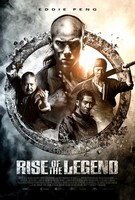 Rise of the Legend
Release Date :
November 27, 2014 Hong Kong
Studio :
Universal Pictures International
Director :
Roy Chow
Starring :
Eddie Peng, Sammo Hung, Wang Luodan, Jing Boran
This is the story of Fei, a young man who is destined to become a master of his time, and an everlasting legend in the world of martial arts. In 1868 during the late Qing Dynasty, rampant corruption on the Imperial Court inflicts much suffering in people's lives. In Guangzhou, two crime factions run the Huangpu Port: The Black Tiger and the Northern Sea. The gangs rule the port by striking fear into the hearts of the poor and helpless. On the outside, it appears to be a place of opportunities and prosperity; in reality, this is hell on Earth.
For years, the Black Tiger's fearsome boss Lei Gong has been trying to get rid of the leader of the Northern Sea. One of his latest recruits is Fei, a fearless fighter who takes the Northern Sea leader's head after a fierce fight. Recognizing Fei's talent, Lei Gong makes the young warrior his godson and one of his Four Tigers, the most trusted men in the gang. Soon, Lei Gong begins to treat Fei like his own son.
Behind Fei's rise to the top of the Black Tigers lies a tragic past: At the age of 9, Fei loses his father to a brutal tyrant. Taken in by a Buddhist monk and kung fu master, Fei learns about the true meaning of vengeance and the skills he needs to get the vengeance he seeks.
Just as Lei Gong believes he has total control of the port, a new gang called the Orphans rises in power. Led by Fei's childhood friend Huo, the Orphans are out to eliminate all the criminal power from the port. Soon, the Orphans strike by hitting Lei Gong's operations, including his opium warehouses and silver vault. Lei Gong quickly realizes that there is a traitor in the gang. But little does he realize the traitor is indeed his protege Fei, who's been secretly working for the Orphans for the past 5 years.
In their ultimate act of revenge, the Orphans spread the news of Lei Gong's secret warehouse that is kidnapping and imprisoning men for hard labor overseas. The foreign merchants immediately abandon the deal, forcing Lei Gong to release the prisoners. To prevent the people from inciting a riot that will cripple the port, Fei reveals his true identity and openly challenges Lei Gong to a lethal showdown.
With peace finally restored in the city, a hero rises in the name of justice and becomes the symbol of righteousness. This is the beginning of master Wong Fei Hung.