About This Video
---

A clip/trailer of Camp X-Ray
Tags
:
Camp X-Ray
Type
: Movie Trailer
Views
: 2504
This Movie Info
---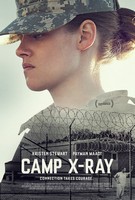 Camp X-Ray
Release Date :
October 17, 2014 Limited
Studio :
IFC Films
Director :
Peter Sattler
Starring :
Kristen Stewart
, Peyman Moaadi, Joseph Julian Soria, Lane Garrison
A young woman joins the military to be part of something bigger than herself and her small-town roots. Instead, she ends up as a new guard at Guantanamo Bay, where her mission is far from black and white. Surrounded by hostile jihadists and aggressive squadmates, she strikes up an unusual friendship with one of the detainees. As two people on opposite sides of a war, they struggle to find their way through the ethical quagmire of Guantanamo Bay. In the process, they form an unlikely bond that changes them both.