About This Video
---

A clip/trailer of Rio, I Love You
Tags
:
Rio, I Love You
Type
: Movie Trailer
Views
: 449
This Movie Info
---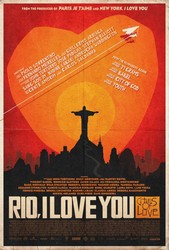 Rio, I Love You
Release Date :
September 11, 2014 Brazil
Studio :
WestEnd Films
Director :
Jose Padilha, Stephan Elliott, Paolo Sorrentino, Fernando Meirelles, Vicente Amorim, Im Sang Soo
Starring :
Rodrigo Santoro
,
Emily Mortimer
,
Jason Isaacs
,
Vincent Cassel
"Rio, I Love You" is an upcoming anthology film starring an ensemble cast of actors of various nationalities. The film is a sequel of sorts to the 2006 film "Paris, je t'aime", and to the 2009 film "New York, I Love You". It's the third film in the Cities of Love franchise.