About This Video
---

A clip/trailer of Wer
Tags
:
Wer
Type
: Movie Trailer
Views
: 941
This Movie Info
---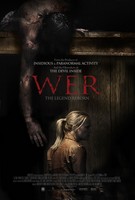 Wer
Release Date :
September 23, 2014 DVD
Studio :
FilmDistrict
Director :
William Brent Bell
Starring :
A.J. Cook
, Simon Quarterman, Sebastian Roche,
Vik Sahay
"Wer" brings a filmmaking style similar to "The Devil Inside", but applies it to a different horror mythology - the werewolf.
The story of a defense attorney named Kate Moore (A.J. Cook) who has set out to clear the name of a suspect in a brutal murder case. The lead, Talan, is accused of murdering an American family. While Talan appears to be gentle on the surface, his attorney soon learns that Talan is actually a werewolf.