About This Video
---

This Movie Info
---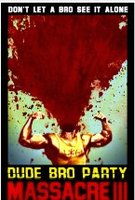 Dude Bro Party Massacre III
Release Date :
June 15, 2015 LA Film Festival
Studio :
5-Second Films
Director :
Tomm Jacobsen, Michael Rousselet, Jon Salmon
Starring :
Patton Oswalt
, Alec Owen, Kelsey Gunn, Paul Prado
In the wake of two back-to-back mass murders on Chico's frat row, loner Brent Chirino must infiltrate the ranks of a popular fraternity to investigate his twin brother's murder at the hands of the serial killer known as Motherface.
As they are picked off one by one, Brent and his fellow Dude Bros must face the terrifying reality that their deadly foe, believed to have been killed (twice!), has returned from the grave (again!), and is hellbent on the destruction of the Delta Bis.