About This Video
---
This Movie Info
---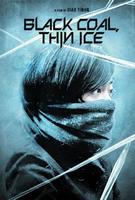 Black Coal, Thin Ice
Release Date :
March 21, 2014 China
Studio :
Boneyard Entertainment China
Director :
Diao Yinan
Starring :
Liao Fan, Kwai Lun-Mei, Wang Xuebing, Wang Jingchun
Northern China, 1999. The grisly discovery of several corpses is made in a small town. A bloody incident during the attempt to capture the alleged murderer leaves two police officers dead and another badly injured. The surviving officer Zhang Zili is suspended from duty; he takes a job as a security guard at a factory. Five years later, another series of mysterious murders occurs. Aided by a former colleague, Zhang decides to investigate under his own initiative. He discovers that all the victims were connected to Wu Zhizhen, a young woman who works at a dry cleaners. Pretending to be a customer, Zhang begins to observe her and finds himself falling in love with the reticent Wu Zhizhen. One cold winter's day he makes a horrific discovery. His life now in danger, he realises it is not always possible to separate guilt from innocence.