About This Video
---

A clip/trailer of Unforgiven
Tags
:
Unforgiven
Type
: Movie Trailer
Views
: 123
This Movie Info
---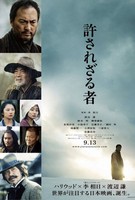 Unforgiven
Release Date :
September 13, 2013 Japan
Studio :
Warner Japan
Director :
Lee Sang Il
Starring :
Ken Watanabe
, Akira Emoto, Koichi Sato, Jun Kunimura
Lee Sang-il's visionary remake of Clint Eastwood's iconic Academy Award-winning film transposes the classic Western to Meiji-period Japan. The Tokugawa shogunate has just collapsed and the Ainu aborigines strive to settle the land alongside the newly established government. Jubei Kamata is a relic of the Tokugawa shogunate, and during that time his name alone terrorized the whole of Kyoto as he killed countless loyalists in the name of the Shogun. After the fall, he vanished from sight. More than 10 years later, Jubei has fathered children with an Ainu woman and lives in a secluded hamlet, barely making a living. His wife - who succeeded in transforming him from a man who kills - had died, leaving him to a quiet life raising his children and tending her grave. However, poverty leads Jubei to abandon his resolve and once again turn to a life of violence.