About This Video
---

A clip/trailer of Tracks
Tags
:
Tracks
Type
: Movie Trailer
Views
: 603
This Movie Info
---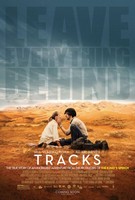 Tracks
Release Date :
September 19, 2014 Limited
Studio :
The Weinstein Company
Director :
John Curran
Starring :
Mia Wasikowska
,
Adam Driver
, Jessica Tovey, Emma Booth
In 1977, a twenty-seven-year-old Australian woman named Robyn Davidson set out from Alice Springs to walk across 2,700 kilometers of harsh desert to the Indian Ocean. Accompanied only by her dog and four camels, Davidson yearned for a solitary journey of self-discovery, and had no ambition other than to reach the ocean beach. She ultimately wrote about her desert adventure in 1980 in the travelogue Tracks, which became a cult favourite around the world.
Robyn (Mia Wasikowska, in a bravura performance) spends two hardscrabble years in the Alice Springs area learning how to train and care for camels (feral herds of which number in the thousands in Western Australia) in order to prepare for her journey. Finally ready to embark with her animals, she realizes she is woefully underfunded and, despite her desires for self-sufficiency, accepts a fee from National Geographic in exchange for a written piece. The magazine adds a condition: she must allow photographer Rick Smolan (Adam Driver, also at the Festival in Michael Dowse's The F Word) to photograph her at selected stops along the way.