About This Video
---
A clip/trailer of Raze
Tags
:
Raze
Type
: Movie Trailer
Views
: 608
This Movie Info
---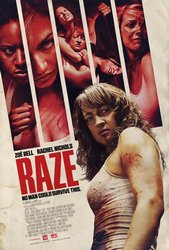 Raze
Release Date :
January 10, 2014 Limited
Studio :
IFC Midnight
Director :
Josh C. Waller
Starring :
Zoe Bell
,
Rachel Nichols
, Adrienne Wilkinson, Rebecca Marshall
After Sabrina (Bell) is abducted, she finds herself in an underground lair, forced to do battle with other innocent women for the amusement of unseen spectators. Each of these reluctant warriors has something to lose, but only one will remain when the game is done. Violent and relentless, Raze takes its video game aesthetic to the deepest and darkest places, rarely surfacing for air.