About This Video
---
A clip/trailer of The Rocket
Tags
:
The Rocket
Type
: Movie Trailer
Views
: 384
This Movie Info
---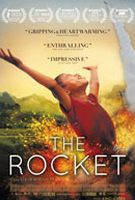 The Rocket
Release Date :
January 10, 2014 Limited
Studio :
Kino Lorber
Director :
Kim Mordaunt
Starring :
Sitthiphon Disamoe, Loungnam Kaosainam, Alice Keohavong, Thep Phongam
Laos: A boy (Ahlo, 10), who is believed to bring bad luck, is blamed for a string of disasters. When his family loses their home and are forced to move, Ahlo meets the spirited orphan Kia (9) and her eccentric uncle Purple: an ex-soldier with a purple suit, a rice-wine habit and a fetish for James Brown.
Struggling to hang on to his father's trust, Ahlo leads his family, Purple and Kia through a land scarred by war in search of a new home. In a last plea to try and prove he's not cursed, Ahlo builds a giant explosive rocket to enter the most lucrative but dangerous competition of the year: the Rocket Festival. As the most bombed country in the world shoots back at the sky, a boy will reach to the heavens for forgiveness.
Gripping yet heart-warming, The Rocket is a deeply personal story about the determination of a boy who has the odds stacked against him, set against the epic backdrop of a war-ravaged country on the brink of huge change.