About This Video
---

A clip/trailer of Big Ass Spider!
Tags
:
Big Ass Spider!
Type
: Movie Trailer
Views
: 473
This Movie Info
---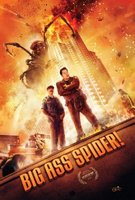 Big Ass Spider!
Release Date :
October 18, 2013 Limited
Studio :
Epic Pictures Releasing
Director :
Mike Mendez
Starring :
Greg Grunberg
, Ray Wise, Lin Shaye, Clare Kramer
"Big Ass Spider!" is a Tremors-style creature feature about a towering mutant arachnid rampaging across Los Angeles and the two unlikely heros who try to stop it.