About This Video
---

A clip/trailer of Tom at the Farm
Tags
:
Tom at the Farm
Type
: Movie Trailer
Views
: 675
This Movie Info
---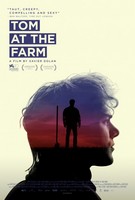 Tom at the Farm
Release Date :
March 28, 2014 Canada
Studio :
MK2 Diffusion
Director :
Xavier Dolan
Starring :
Xavier Dolan, Pierre-Yves Cardinal, Lise Roy, Evelyne Brochu
In this psychological thriller Stockholm Syndrome, mourning and latent violence permeate a story of lies and imposters. A young ad executive travels to the country for a funeral and discovers that no one there knows his name or his relationship with the deceased.
Set deep in the farmlands of Quebec, TOM AT THE FARM tells of the growing fissure separating city and country and the respective natures of the men that reside there.