About This Video
---

A clip/trailer of We Are What We Are
Tags
:
We Are What We Are
Type
: Movie Trailer
Views
: 333
This Movie Info
---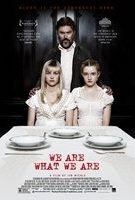 We Are What We Are
Release Date :
September 27, 2013 Limited
Studio :
Entertainment One
Director :
Jim Mickle
Starring :
Bill Sage, Ambyr Childers, Wyatt Russell, Julia Garner
In "We Are What We Are", a seemingly wholesome and benevolent family, the Parkers have always kept to themselves, and for good reason. Behind closed doors, patriarch Frank (Bill Sage, "Boardwalk Empire") rules his family with a rigorous ferver, determined to keep his ancestral customs intact at any cost. As a torrential rainstorm moves into the area, tragedy strikes and his daughters Iris (Ambyr Childers, "The Master") and Rose (Julia Garner, "Martha Marcy May Marlene", "Sin City: A Dame to Kill For") are forced to assume responsibilities that extend beyond those of a typical family. As the unrelenting downpour continues to flood their small town, the local authorities begin to uncover clues that bring them closer to the secret that the Parkers have held closely for so many years.