About This Video
---

This Movie Info
---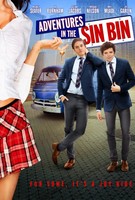 Adventures in the Sin Bin
Release Date :
October 18, 2013 Limited
Studio :
Phase 4 Films
Director :
Billy Federighi
Starring :
Michael Seater, Bo Burnham, Emily Meade, Brian Petsos
Brian (Michael Seater) is a shy kid who owns a vintage van that has been appropriately dubbed the "Sin Bin." Brian loans the van out to his friends for their romantic exploits while he remains a frustrated virgin. Then he meets Tony (comedian Bo Burnham in a scene-stealing role) in the bathroom of the high school where he holds court. Tony wants to use the Sin Bin, and makes a deal that he will teach Brian the art of wooing women in exchange. Unfortunately, everything becomes much more complicated when Brian falls for Tony's girl, Suzie (Emily Meade). With his brother Benny (Brian Petsos) and their neighbor Officer Totsch (Tim Blake Nelson at his comedic best) entering the picture, Brian is going to need all the help he can get to navigate this love triangle. First-time director Billy Federighi captures the absurd world of high school romantic relationships with a young cast that blends fresh faces with established talent. The intelligent and funny Sin Bin is poised to join the pantheon of exceptional high school comedies that speak across the generations through the universal absurdity of young love.