About This Video
---

A clip/trailer of Spike Island
Tags
:
Spike Island
Type
: Movie Trailer
Views
: 1240
This Movie Info
---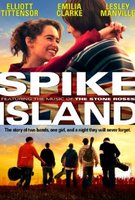 Spike Island
Release Date :
May 08, 2015 Limited
Studio :
Level 33 Entertainment
Director :
Mat Whitecross
Starring :
Elliott Tittensor, Nico Mirallegro, Jordon Murphy, Adam Long
The year: 1990. The location: Spike Island
Shadowcaster are a 4-piece band from Manchester. Or more accurately, they are five lads with guitars-and-a-garage and an ambition to forget school, forget their troubled home lives, forget GCSE's and see their heroes The Stone Roses as they play the biggest gig of their career..
As the defining concert of their generation is announced, the band are convinced that all they need is to get tickets, get to the gig, meet IanBrown, give him their demo tape, and the rest, as the saying goes, will be history.
A simple enough plan, right? But with no tickets and a sold out gig to contend with, the boys embark on a road trip in a "borrowed" florist's vanto Spike Island. Along the way friendships are tested and their futures shaped - together or apart.
Consistently hilarious and heart-warming, Spike Island perfectly captures a defining era in British music history.
This is the one...