About This Video
---
This Movie Info
---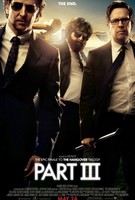 From Warner Bros. Pictures and Legendary Pictures comes "The Hangover Part III," the third and final film in director Todd Phillips' record-shattering comedy franchise.This time, there's no wedding. No bachelor party. What could go wrong, right? But when the Wolfpack hits the road, all bets are off.
"The Hangover Part III" reunites Bradley Cooper, Ed Helms, Zach Galifianakis and Justin Bartha as Phil, Stu, Alan and Doug. Also returning to the ensemble are Ken Jeong as Mr. Chow, Heather Graham as Jade, and Jeffrey Tambor as Alan's father, Sid. Joining the starring cast is John Goodman.
Comments
---

Dwayne Bonello hangover movie 1,2,3 and its terrible terrible terrible and i will not see it and i will give 1stars and its bad bad teribble terrible!
posted by

Dwayne Bonello

on May 27, 2013