About This Video
---
A clip/trailer of Teen Beach Movie
Tags
:
Teen Beach Movie
Type
: Movie Trailer
Views
: 343
This Movie Info
---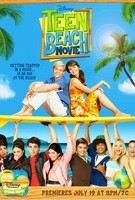 Teen Beach Movie
Release Date :
July 19, 2013 TV Premiere
Studio :
Disney Channel
Director :
Jeffrey Hornaday
Starring :
Ross Lynch
, Maia Mitchell, Garrett Clayton, Grace Phipps
A surfer, McKenzie (Maia Mitchell), is forced by her parents to leave everything behind and go to a boarding school, including leaving her boyfriend Brady (Ross Lynch). However, the teenagers are transported to Brady's favorite 1960s movie musical. They have to try to find a way home, without trying to bring too much attention to themselves. They also have to blend try to finerybody keeps starting to sing and dance. While there, a fight breaks out between biker and surfer and then, the duo find themselves in the middle of it.