About This Video
---

A clip/trailer of In the House
Tags
:
In the House
Type
: Movie Trailer
Views
: 563
This Movie Info
---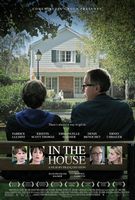 In the House
Release Date :
April 19, 2013 Limited
Studio :
Cohen Media Group
Director :
Francois Ozon
Starring :
Kristin Scott Thomas
, Ernst Umhauer, Fabrice Luchini, Emmanuelle Seigner
Sixteen-year-old Claude (Ernst Unhauer) insinuates himself into the house of fellow high school student Rapha (Bastien Ughetto), writing about his family in essays that perversely blur the lines between reality and fiction for his jaded literature teacher Germain (Fabrice Luchini). Intrigued by this gifted and unusual student, Germain rediscovers his taste for teaching, but the boy's intrusion sparks a series of uncontrollable events. Kristin Scott-Thomas plays Germain's wife, Jeanne, a contemporary art gallery director who avidly follows Claude's semi-imaginary escapades, while Emmanuelle Seigner plays Rapha's mom, Claude's object of desire.