About This Video
---

A clip/trailer of If I Were You
Tags
:
If I Were You
Type
: Movie Trailer
Views
: 891
This Movie Info
---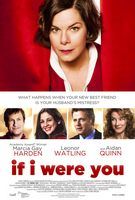 If I Were You
Release Date :
March 15, 2013 Limited
Studio :
Gravitas Ventures
Director :
Joan Carr-Wiggin
Starring :
Marcia Gay Harden
, Leonor Watling, Aidan Quinn, Joseph Kell
Madelyn Reid accidentally learns of her husband's infidelity when she saves his sexy young mistress (TALK TO HER's Leonor Watling) from a bungled suicide attempt. When her unsuspecting young rival suggests the two new "best friends" take each other's advice-on everything-Madelyn sees an opportunity to seize the upper hand. But the plan backfires when the aspiring young actress insists Madelyn keep her end of the bargain-and orders her to star as King Lear in a very amateur production, with Lucy playing The Fool. Things really get out of control when Lucy starts giving Madelyn instructions on dealing with an amorous coworker and a handsome stranger (Aidan Quinn). Marcia Gay Harden gives a hilarious, touching and utterly believable performance in this delightful comedy about two women who become the unlikeliest of friends.