About This Video
---

A clip/trailer of Frances Ha
Tags
:
Frances Ha
Type
: Movie Trailer
Views
: 577
This Movie Info
---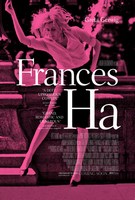 Fast, funny, faultlessly flirty, and shot in crisp black and white, Noah Baumbach's latest is today's Manhattan. Of course, Manhattan would be set in Brooklyn if it was made now, and Brooklyn is where you'll find Frances. Played with expert oddness by the amazing Greta Gerwig, she is all elbows and punchlines, stumbling through New York searching for bliss.
Remarkably, Frances is a dancer, or a struggling dance teacher. Like many in her tribe of almost-adults, Frances aims to do many things but succeeds at very little. Her greatest triumph to date is her friendship with Sophie, a dour-looking, tart-tongued girl who matches Frances's sense of humour quip for quip. A couple of white girls who go all hip-hop when necessary, these semi-hipsters mostly spend their days commenting on their lives like a pair of Dorothy Parkers ("This apartment is very aware of itself," says Sophie when she visits Frances' new pad). But they also have to admit they're "like a lesbian couple that doesn't have sex anymore."
And so in her gawky, self-aware way, Frances opens her heart to love. She allows a sort of romance to develop with a male friend, but both of them have trouble with the ground rules. Ultimately, Frances would rather dance.