About This Video
---

A clip/trailer of Treachery
Tags
:
Treachery
Type
: Movie Trailer
Views
: 750
This Movie Info
---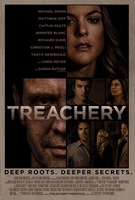 Treachery
Release Date :
April 20, 2013 Sunscreen Film Fest.
Studio :
Blanc Biehn Productions
Director :
Travis Romero
Starring :
Michael Biehn
, Matthew Ziff, Jennifer Blanc, Sarah Butler
The film captures the controversy between Henry and his estranged son, Nathan. Reunited at a friend's small wedding party, in a remote cabin, Henry and Nathan have their usual awkward interactions. Nathan, accompanied by his girlfriend Cecilia, seeks his father's approval. Cecilia's presence only adds to Henry's discomfort, forcing him to want to leave, but a storm hits, trapping them in the cabin and headed for the worst along with the rest of the group. None of them really realize what is truly in store.