About This Video
---

Behind the scene of In a World...
Tags
:
In a World...
Type
: Behind the Scene Video
Views
: 515
This Movie Info
---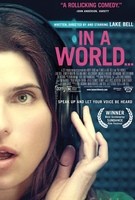 "In a World..." takes a hilarious look at the cutthroat culture of movie trailer voice-over artists. Carol Solomon (Bell), a young female voice coach, joins the all-male race to land the white-hot new trailer of a blockbuster trilogy, and with it lay claim to the legendary trailer catchphrase "In a world..." In doing so, she must battle ingrained industry sexism, ridiculously self-important competitors and even her own father, Sam Sotto (Fred Melamed), a legendary voice-over artist who can't bring himself to recognize his daughter's talent.