About This Video
---
A clip/trailer of War Witch
Tags
:
War Witch
Type
: Movie Trailer
Views
: 648
This Movie Info
---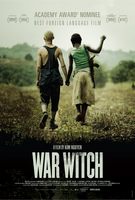 War Witch
Release Date :
March 01, 2013 Limited
Studio :
Tribeca Film
Director :
Kim Nguyen
Starring :
Rachel Mwanza, Alain Lino Mic Eli Bastien, Serge Kanyinda, Mizinga Mwinga
Komona (Rachel Mwanza) is only 12 years old when she is kidnapped by rebel soldiers and enslaved to a life of guerrilla warfare in the African jungle. Forced to commit unspeakable acts of brutality, she finds hope for survival in protective, ghost-like visions (inspiring a rebel chief to anoint her "War Witch"), and in a tender relationship with a fellow soldier named Magician (Serge Kanyinda). Together, they manage to escape the rebels' clutches, and a normal life finally seems within reach. But after their freedom proves short-lived, Komona realizes she must find a way to bury the ghosts of her past.