About This Video
---
A clip/trailer of The Attack
Tags
:
The Attack
Type
: Movie Trailer
Views
: 572
This Movie Info
---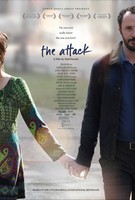 The Attack
Release Date :
June 21, 2013 Limited
Studio :
Cohen Media Group
Director :
Ziad Doueiri
Starring :
Ali Suliman, Evgenia Dodena, Reymond Amsalem, Dvir Benedek
When a suicide bomber strikes at a Tel Aviv cafe, Dr. Amin Jaafari (Ali Suliman), a Palestinian citizen of Israel and a highly respected surgeon, treats the wounded victims of the blast at a nearby hospital - at least those who will let him, as some refuse to be attended to by a Palestinian. Jaafari is not unaccustomed to such affronts, but this dreadful day has a far ruder shock in store. Late that night, Jaafari is called back to the hospital to identify the body of the bomber: his wife.
In an instant, Jaafari's comfortable life is shattered. Grief-stricken, wracked by guilt and tormented by his own incomprehension, the doctor embarks on a desperate journey to understand his wife's motivations for her terrible act. Retracing his wife's recent trip to the occupied West Bank, where she had claimed to be visiting relatives, Jaafari goes in search of the people who recruited her, a voyage fraught with danger and surprises. What begins as an investigation, however, gradually evolves into a painful and revealing self-reckoning, as Jaafari is forced to confront the sum of his own life's choices and the shaky foundations of his overlapping identities: as a Palestinian, an Israeli citizen, a doctor, and a husband.
Adapted from the critically acclaimed novel by the pseudonymous Algerian writer Yasmina Khadra, the new film from director Ziad Doueiri (West Beirut) is both a psychological thriller and an incisive exploration of one of the most complex political-ideological issues of our time. Lucid, precise and fearless, The Attack foregoes sermonizing, simplification and manipulation to remind us of cinema's ability to engage with a charged political reality, to undermine the stereotypes that help fuel it and reveal it in its full, tragic, human dimension.