About This Video
---

A clip/trailer of Run for Your Wife
Tags
:
Run for Your Wife
Type
: Movie Trailer
Views
: 1275
This Movie Info
---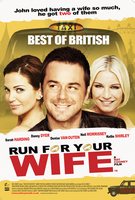 John Smith is a taxi driver and the happiest man in the world. He loves his job, he loves his wife and he loves South London where they live - and he also loves North London where he lives with his other wife. And his wives love him because he's the sweetest, most lovable, most cheerful husband in the world. Perfect! Until one day he does something heroic by saving an old bag lady from two young muggers. John's ideal existence is immediately threatened by the press, the police and his best friend Gary, who, in attempting to help John cover up his marital deception, only achieves further mayhem.
Will John prevent huge media coverage of his heroism?
Will John and Gary stop the two wives meeting? Will the police be kept at bay?Over a crazy period of 24 hours John and Gary madly attempt to save John's blissful marriages.
Comments
---

I find myself smiling from ear to ear every time I watch this trailer, can't wait for the movie!
posted by

Alienito

on Jan 06, 2013