About This Video
---
A clip/trailer of Dangerous Liaisons
Tags
:
Dangerous Liaisons
Type
: Movie Trailer
Views
: 694
This Movie Info
---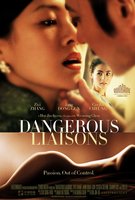 Dangerous Liaisons
Release Date :
November 09, 2012 Limited
Studio :
Well Go USA
Director :
Hur Jin Ho
Starring :
Jang Dong Gun,
Zhang Ziyi
, Cecilia Cheung, Lisa Lu
Set in 1930s Shanghai - the glamorous, tumultuous "Paris of the East" - this adaptation of the French novel Les Liaisons Dangereuses is the Chinese cinematic version of Dangerous Liaisons.
Aging socialite Mo Jieyu(Cecilia Cheung) met her ex-boyfriend Xie Yifan(Jang Dong Gun) after years of separation. Mo became a rich and charming widower who didn't believe in any man yet indulged herself in seeking sensuous pleasures from man while Xie became a famous womanizer who, in the bottom of his heart, never got over his love for Mo. In his luxurious life, Xie met chaste young woman Du Fenyu(Zhang Ziyi) who was completely different from the so-called high society women in Xie's circle. Xie wanted to conquer her by all means. But Du seemed not to care about him at all. Meanwhile, Mo lured Xie into a treacherous and dangerous game, which required him to dump Du after he won Du's heart. But Xie gradually found himself in love with Du.
With war looming in Shanghai, how would Xie choose between the two women? Where would the triangle relationship lead them to? The dangerous game brought tragic and unintended consequences.
Comments
---

dwayne bonello i hate this movie and i will not see it and i will give 1stars!
posted by

dwayne bonello

on Nov 03, 2012