About This Video
---
A clip/trailer of Tai Chi Hero
Tags
:
Tai Chi Hero
Type
: Movie Trailer
Views
: 1121
This Movie Info
---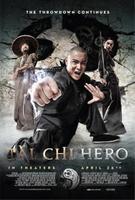 Tai Chi Hero
Release Date :
April 26, 2013 Limited
Studio :
Well Go USA
Director :
Stephen Fung
Starring :
Yuan Xiaochao, Angelababy, Eddie Peng,
Shu Qi
Lu Chan (Yuan Xiaochao) is still trying to find his place in Chen Village, the legendary town where everyone is a martial arts master...and Chen-style Tai Chi is forbidden to outsiders. But since he helped save the town from a frightening steam-powered machine, Yuniang (Angelababy), beautiful daughter of Grandmaster Chen (Tony Leung Ka Fai), agrees to marry Lu Chan and bring him into the family. It's only a formality, though - she is the teacher, and he is the student - and that suits Lu Chan just fine, as the mutant horn on his head gives him incredible kung-fu power, but leaves him dumber each time, and closer to death.
Chen Village still stands in the shadow of danger. A prodigal brother returns, Lu Chan's presence invokes a curse on the town, and Yuniang's scorned fiancee has an appetite for revenge, as well as some new partners in crime.
The second in a trilogy from the creators of Ip Man and Detective Dee, and featuring action directed by the legendary Sammo Hung, "Tai Chi Hero" is a full-on, steampunk-infused, video game-influenced kung fu throwdown that will knock you out of your seat.