About This Video
---

This Movie Info
---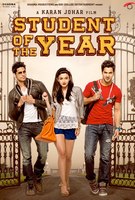 Student of the Year
Release Date :
October 19, 2012 Limited
Studio :
Eros International
Director :
Karan Johar
Starring :
Sidharth Malhotra, Varun Dhawan, Alia Bhatt, Rishi Kapoor
Student of the Year is set in a school called St. Teresa's, which is one of India's premier academic institutions. Every year, the boys and girls of St.T's compete with each other to win Student of the Year's trophy. 3 competitions take place and the student with the highest score at the end of all competitions emerges as the winner. Our story begins with two boys Abhi and Rohan, who meet each other in St. Teresa's in their final year. Soon their gang of their friends extends to Shanaya and her friends. They all become thick friends and it appears that nothing can break them until things turns upside down as Abhi and Shanaya fall for each other and the Student of the Year competition begins. As friendships are tested and passions run high, Student of the Year rushes towards an exciting climax.
Comments
---

dwayne Bonello i hate this movie and i hate students and i hate students movies and i will not see it and i will give 1stars and i hate students!
posted by

Dwayne Bonello

on May 27, 2013