About This Video
---
A clip/trailer of Hotel Transylvania
Tags
:
Hotel Transylvania
Type
: Movie Trailer
Views
: 749
This Movie Info
---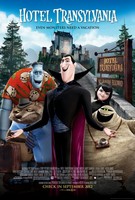 Welcome to the Hotel Transylvania, Dracula's (Sandler) lavish five-stake resort, where monsters and their families can live it up, free from meddling from the human world. But here's a little known fact about Dracula: he is not only the Prince of Darkness; he is also a dad.
Over-protective of his teenage daughter, Mavis, Dracula fabricates tales of elaborate dangers to dissuade her adventurous spirit. As a haven for Mavis, he opens the Hotel Transylvania, where his daughter and some of the world's most famous monsters - Frankenstein and his bride, the Mummy, the Invisible Man, a family of werewolves, and more - can kick back in safety and peace. For Drac, catering to all of these legendary monsters is no problem - but his world could come crashing down when one ordinary guy stumbles on the hotel and takes a shine to Mavis.
Comments
---

dwayne bonello i hate this animated movie hotel transylvania and i hate this clip from the movie and i will give 1stars!
posted by

dwayne bonello

on Oct 31, 2012