About This Video
---
This Movie Info
---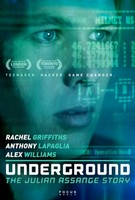 In the ongoing debates surrounding privacy and information rights on the internet, no figure has been more contentious than Julian Assange, the Australian-born founder of the whistle-blower website WikiLeaks. Assange has been both praised and vilified for his actions as a purveyor of radical, independent reportage. In this new biopic, director Robert Connolly shines a spotlight on Assange's early years as a teenage hacker.
In 1989, eighteen-year-old Julian (Alex Williams) lives with his activist mother (Rachel Griffiths), his much younger half-brother, his teenage wife (Laura Wheelwright) and infant son. His most prized possession is a Commodore 64. Under the pseudonym "Mendax," Julian and two of his tech-savvy friends form a hacker group known as the International Subversives. The rules of the game are simple: don't steal anything, leave no trace of your presence, and share any information you discover. Giddy over this high-tech avenue for teenage rebellion, the trio breaks into bank databases and government websites, taking pleasure in poking around where they don't belong. But when Julian hacks into a Pentagon database - uncovering the bloody truth behind a recent military incursion - he realizes for the first time the gravity of his status as an outlet for the truth. Meanwhile, the group attracts the attention of police detective Ken Roberts (Anthony LaPaglia), whose analogue approach to sleuthing is tested by this new criminal element.
The contrast between old-school investigative methods and the quicksilver speed of the emerging digital age gives the film much of its juice: while Julian "travels all over the world" from the comfort of his computer desk, the police are reduced to manually following a dial-up signal as it clicks through various receivers at the local phone company. This hands-on approach seems to prevail, as the police eventually close in on the young hacker. But Julian's dramatic arrest at the hands of the Australian Federal Police was only the beginning-a clarion call for a new age of digital activism.