About This Video
---
Promo Video : Stories We Tell (Clip)
Tags
:
Stories We Tell
Type
: Promo Video
Views
: 374
This Movie Info
---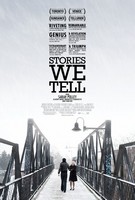 Stories We Tell
Release Date :
May 10, 2013 Limited
Studio :
Roadside Attractions
Director :
Sarah Polley
Starring :
Diana Polley, Michael Polley,
Sarah Polley
, Rebecca Jenkins
In this inspired, genre-twisting film, Oscar nominated writer/director Sarah Polley discovers that the truth depends on who's telling it. Polley is both filmmaker and detective as she investigates the secrets behind a family of storytellers. She playfully interrogates a cast of characters of varying reliability, eliciting refreshingly candid, yet mostly contradictory, answers to the same questions. As each relates their version of the family mythology, present-day recollections shift into nostalgia-tinged glimpses of a lively, fun-loving past and the shadows just beneath. Polley unravels the paradoxes to reveal the essence of family: a messy, intense and loving tangle of contradictions. "Stories We Tell" explores the elusive nature of truth and memory, but at its core is a deeply personal film about how our narratives shape and define us as individuals and families, all interconnecting to paint a profound, funny and poignant picture of the larger human story.