About This Video
---

A clip/trailer of Little White Lies
Tags
:
Little White Lies
Type
: Movie Trailer
Views
: 345
This Movie Info
---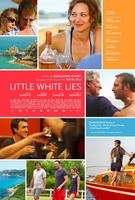 Little White Lies
Release Date :
August 24, 2012 Limited
Studio :
MPI Media Group
Director :
Guillaume Canet
Starring :
Marion Cotillard
, Benoit Magimel, Gilles Lellouche, Valerie Bonneton
In a Parisian nightclub, party man Ludo (Dujardin) takes off late at night on his scooter, where he's blindsided by a truck. Lying between life and death in the hospital, Ludo is visited by his band of longtime pals, who decide that the gruesome crash shouldn't prevent them from embarking on their coveted summer holidays.
Prior to the trip, another major problem arises when one of the friends, chiropractor Vincent (Magimel), confesses his attraction to nervous-wreck restaurateur Max (Cluzet); their initial tete-a-tete is one of the film's comic highlights. Both are married, and Max clearly isn't game, so when they arrive later with their families at his pristine seaside cottage, tensions are sky-high. The group's stress level is further goosed by pot-smoking rebel Marie (Cotillard), lovesick actor Eric (Lellouche) and the even more lovesick Antoine (Lafitte), all of whom are suffering from failed or failing relationships.