About This Video
---
A clip/trailer of Death Race: Inferno
Tags
:
Death Race: Inferno
Type
: Movie Trailer
Views
: 990
This Movie Info
---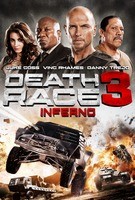 Get ready for an explosive, action-fueled ride when hardened criminals race for their freedom in vicious new vehicles and face off in the ultimate blood sport in the all-new original feature DEATH RACE 3: INFERNO.
In this all-new original feature film based on the hit franchise, the popular Death Race is transported across the globe to the unforgiving and rugged terrain of South Africa where Frankenstein - the greatest Death Race driver of all time - takes on this ultimate challenge to not only save himself, but his pit crew, as well.
Inspired by Roger Corman's cult classic thrill ride, DEATH RACE 3: INFERNO marks the return of Luke Goss (Death Race 2, Hellboy 2: The Golden Army, Blade 2), Danny Trejo (DeathRace 2, Machete, "Sons of Anarchy"), Ving Rhames (Death Race 2, Mission: Impossible franchise, Pulp Fiction), Fred Koehler (Death Race 1 & 2, "Lost"), Robin Shou (Death Race 1 & 2, Mortal Kombat) and Tanit Phoenix (Death Race 2, "Femme Fatales"). Also, joining the action are Dougray Scott (Mission: Impossible II, "Heist") and Hlubi Mboya (How to Steal 2 Million).
Comments
---

dwayne bonello i love the first death race 1,2 and the 3rd death race 3 and i will see it over and over again and i will give 5stars!
posted by

dwayne bonello

on Nov 16, 2012