About This Video
---
Promo Video : The Imposter (Clip 'Many Possibelities')
Tags
:
The Imposter
Type
: Promo Video
Views
: 350
This Movie Info
---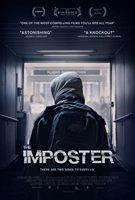 The Imposter
Release Date :
July 13, 2012 Limited
Studio :
Indomina Releasing
Director :
Bart Layton
Starring :
Adam O'Brian, Anna Ruben, Cathy Dresbach, Alan Teichman
A gripping thriller straight out of real life, "The Imposter" is an original film experience that walks the razor's edge between true-crime documentary and stylish noir mystery.
The twisting, turning tale begins with an unsettling disappearance - that of Nicholas Barclay, a 13 year-old Texas boy who vanishes without a trace. Three and a half years later, staggering news arrives: the boy has been found, thousands of miles from home in Spain, saying he survived a mind-boggling ordeal of kidnap and torture by shadowy captors. His family is ecstatic to have him back no matter how strange the circumstances--but things become far stranger once he returns to Texas.
Though the family accepts him, suspicion surrounds the person who claims to be Nicholas. How could the Barclay's blonde, blue-eyed son have returned with darker skin and eyes? How could his personality and even accent have changed so profoundly? Why does the family not seem to notice the glaring differences? And if this person who has arrived in Texas isn't the Barclay's missing child... who on earth is he? And what really happened to Nicholas?