About This Video
---
A clip/trailer of Demoted
Tags
:
Demoted
Type
: Movie Trailer
Views
: 697
This Movie Info
---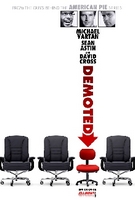 Mike and Rodney are two mid-level sales associates at a tire company, skate by on the good grace of their elderly boss who has a soft spot for them. After a night of partying, they wake up to the news that the old guy has died of a heart-attack, and their new boss is Castro, the office jerk.
They are immediately demoted to the all female secretarial pool and forced to put in their first day of hard work at Treadline Tires. Completely unequipped for the demands of the job, Mike and Rodney put themselves at the mercy of the women who they had formerly looked down on. Desperately needing their paychecks, they suck up their pride and become one of the girls: They join the women's softball team, share diet and dating tips and watch Desperate Housewives together. Risking their own jobs, Mike and Rodney spearhead an uprising demanding fair treatment for all secretaries, and findstrength in themselves and a pride in their work they have never known.
In the end, with the support of their newfound comrades, they manage to land the biggest account in the history of the company, restore the dignity of the secretaries, get their jobs back... and get their nemesis Castro DEMOTED.