About This Video
---
A clip/trailer of On the Road
Tags
:
On the Road
Type
: Movie Trailer
Views
: 1403
This Movie Info
---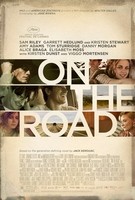 "The only people for me are the mad ones, the ones mad to live, mad to talk, mad to be saved, desirous of everything at the same time, the ones who never yawn or say a commonplace thing but burn, burn, burn like fabulous roman candles exploding like spiders across the stars..." - Jack Kerouac.
Based on Jack Kerouc's beloved American novel, ON THE ROAD is the story of Sal Paradise, an aspiring New York writer, and Dean Moriarty, a devastatingly charming ex-con, married to the very liberated and seductive Marylou.
Sal and Dean bond instantly instantly upon meeting. Determined not to get locked in to a constricted life, the two friends cut their ties and take to the road with Marylou. Thirsting for freedom, the three young people head off in search of the world, of other encounters, and of themselves.