About This Video
---

A clip/trailer of Crackerjack
Tags
:
Crackerjack
Type
: Movie Trailer
Views
: 649
This Movie Info
---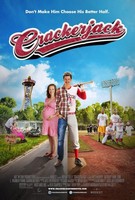 Crackerjack
Release Date :
September 13, 2013 Limited
Studio :
Art Within
Director :
Bryan Coley
Starring :
Wes Murphy, Jeff Foxworthy, Bethany Anne Lind, L. Warren Young
In the off-beat style of "Napoleon Dynamite", this southern tale, narrated by executive producer, Jeff Foxworthy follows the comical missteps of a lovable loser, Bill "Crackerjack" Bailey IV (CJ). His residence of choice is a single-wide. His entrepreneurial endeavors include collecting state quarters and Dinky Dolls. And the only diamond that he gets near is not on the finger of his live-in girlfriend, Sherry, but instead a softball diamond, which is CJ's drug of choice. However, when Sherry learns she's pregnant and moves out to prod CJ into action, the real root of CJ's artful dodging comes into play: a curse in which Bailey men become absent as soon as a baby becomes present. Faced with losing his true love or confronting the curse and his impending fatherhood, CJ does what any man would do-play ball!