About This Video
---
A clip/trailer of The Sweeney
Tags
:
The Sweeney
Type
: Movie Trailer
Views
: 900
This Movie Info
---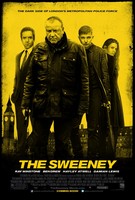 Legendary Detective Inspector Jack Regan (Ray Winstone) and his loyal partner George Carter (Plan B) are old school crime fighters enforcing the law in a modern underworld.
Armed and dangerous, the Flying Squad (rhyming slang Sweeney Todd) have their own unique way of operating, however, they always get the results. With a bank heist in progress and his old enemy making a re-appearance on the London crime scene, Regan will do whatever it takes to get the job done, even defying orders from his no nonsense Guv (Damian Lewis).
Tearing up the streets of London, THE SWEENEY is a stylish, exhilarating action thriller directed by Nick Love (Outlaw), co-written by BAFTA winning John Hodge (Trainspotting) and boasting a terrific British cast including Hayley Atwell (Captain America) and Steven Mackintosh (Underworld: The Rise of the Lycans).