About This Video
---
This Movie Info
---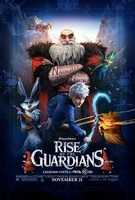 "Rise of the Guardians" is an epic and magical adventure that tells the story of Santa Claus, the Easter Bunny, the Tooth Fairy, the Sandman, and Jack Frost - legendary characters with previously unknown extraordinary abilities. When an evil spirit known as Pitch lays down the gauntlet to take over the world, the immortal Guardians must join forces to protect the hopes, beliefs and imagination of children everywhere.
Comments
---

dwayne bonello i hate this animated and i will not see and on december 14 i not see and i will give 1stars!
posted by

dwayne bonello

on Oct 30, 2012

dwayne bonello i love this animated movie and its a christmas animated and i will see it on december 14 2012!
posted by

dwayne bonello

on May 23, 2012