About This Video
---
A clip/trailer of The Kid with a Bike
Tags
:
The Kid with a Bike
Type
: Movie Trailer
Views
: 415
This Movie Info
---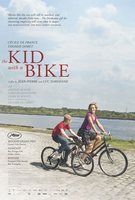 The Kid with a Bike
Release Date :
March 16, 2012 Limited
Studio :
IFC Films
Director :
Luc Dardenne, Jean-Pierre Dardenne
Starring :
Cecile de France
, Thomas Doret, Jeremie Renier, Fabrizio Rongione
Winner of the Grand Jury Prize at this year's Cannes Film Festival, the deeply moving new film by the Dardenne brothers (L'enfant, Rosetta) delves into the emotional life of troubled 11-year-old Cyril (newcomer Thomas Doret). When his father (Jeremie Renier) abandons him, Cyril obsessively tries to find his bicycle-- after all, his father must have cared about him enough not to sell that off, he reasons. Almost by accident, he becomes the ward of a kind hairdresser (Cecile de France), a woman who seems surprised to find herself so determined to help him. With his wild, unpredictable behavior and his disastrous search for father figures, Cyril risks losing her--though she refuses to give up without a fight. Full of heartbreaking betrayals and unexpected grace, "The Kid With a Bike" is a film about a child, abandoned to the elements, learning to become good.