About This Video
---
A clip/trailer of Lay the Favorite
Tags
:
Lay the Favorite
Type
: Movie Trailer
Views
: 1287
This Movie Info
---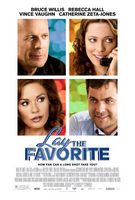 Set in the wild, extremely funny and lightning-paced world of legal - and illegal - sports gambling, "Lay the Favorite" follows unpredictable dreamer Beth as she goes from in-home stripper in Tallahassee to gambler's assistant in Las Vegas, working for Dink, one of the most successful gamblers in the business.
She takes to the work like a natural, but makes the risky bet to fall for Dink, much to the chagrin of his retired showgirl wife, Tulip.
That bet goes South, and a triangular war ensues.
Against Dink's protests, Beth goes to work for the flamboyant, unstable Rosie who runs a less-than-legal operation in NYC, then for his doomed hyper-speed online sportsbook in the betting Babylon of Curacao. When Beth's risky gambles result in her innocent boyfriend threatened with prison, she must reunite with Dink, face up to the fearsome Tulip, risk jail, and return to NYC to confront her responsibilities. Can she beat the odds and win the day?
Comments
---

dwayne bonello i hate this movie and i will not see it and i will give 1stars!
posted by

dwayne bonello

on Nov 03, 2012