About This Video
---
A clip/trailer of The Lady
Tags
:
The Lady
Type
: Movie Trailer
Views
: 641
This Movie Info
---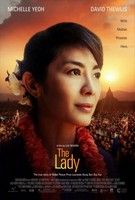 The Lady
Release Date :
April 13, 2012 Limited
Studio :
Cohen Media Group
Director :
Luc Besson
Starring :
Michelle Yeoh
,
David Thewlis
, William Hope, Sahajak Boonthanakit
A biopic of Burmese pro-democracy politician and Nobel Peace Prize winner Aung San Suu Kyi. It will chart her remarkable journey from housewife bringing up her children in Oxford to taking on the power of Burma's generals by becoming opposition leader. It will be set between 1988 - when Aung San Suu Kyi left Oxford to visit her sick mother and ended up staying - and 1999, the year Aris died after being diagnosed with cancer. Aris had been forbidden from entering Burma, a decision that left Aung San Suu Kyi with the almost impossible decision of whether to stay or go.