About This Video
---
A clip/trailer of The Lie
Tags
:
The Lie
Type
: Movie Trailer
Views
: 718
This Movie Info
---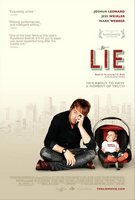 The Lie
Release Date :
November 18, 2011
Studio :
Screen Media
Director :
Joshua Leonard
Starring :
Joshua Leonard, Jess Weixler, Mark Webber,
Alia Shawkat
Life hasn't turned out as planned for Lonnie and Clover. When they fell in love during college, they were young and idealistic... she, politically progressive and he, progressively artistic. However, after an unplanned pregnancy during Clover's second year of law school, they were forced to flip the script. Lonnie put his music on hold and got a shitty job. As our film begins, Clover has just decided to abandon her activist, pro-bono tract in favor of a more lucrative career path in corporate law.
This new development, added to the gradual increase of life's disappointment, is enough to throw Lonnie into a tailspin. Thinking all he needs are a few days off work to decompress and 'find himself', he decides to call in sick... except that he's already used up his 'sick days' for the year. Well, one lie leads to another and before he knows what he's done, he has told his boss his newborn baby has just died.
Lonnie is an idiot, but he's not stupid. He realizes that he's just thrown a grenade on life as he knows it, and that it's only a matter of time before it blows up in his face. Before that happens, however... he has to figure out who he is, what he wants, and, just maybe, what it means to be a father.